This visual poetry project is dedicated to the victims of the Pulse massacre who lost their lives during a simple night out with loved ones and strangers, forever embedded and united in history on that tragic night.
On June 12, 2016, a horrific attack on the Queer and Trans communities took place at Pulse Nightclub in Orlando, FL.  As a result, 49 lives were taken, culminating in the largest mass murder on American soil since the 9/11 terrorist attacks.  I created the following poem and subsequent artwork in memory of the lives lost in this massacre.  Everyone named died too soon at the hands of an anguished gunman.  May they rest in peace and power and may their deaths not be in vain.
Lies
Guise
Lives
Lost
Lost
Us
Great
Costs
But It
Became
Our Hope
So Came:
The Start
Of Change
After
Rampage.
Did we sin?
Feared by kin
We were in
Peace within.
Queer and Trans,
Black and Brown –
Hate entrenched
Scorn renown.
Dead queer bodies
With melanin
And martyred by
The fear within.
Radicalized
He terrorized
And fantasized
The genocide.
Loud, rattled and dazed
In dark, clouded haze
They hid as they gazed
Amidst their last days.
Queer, Trans, day-to-day,
Discrimination
Of our condition.
Now these bodies lay…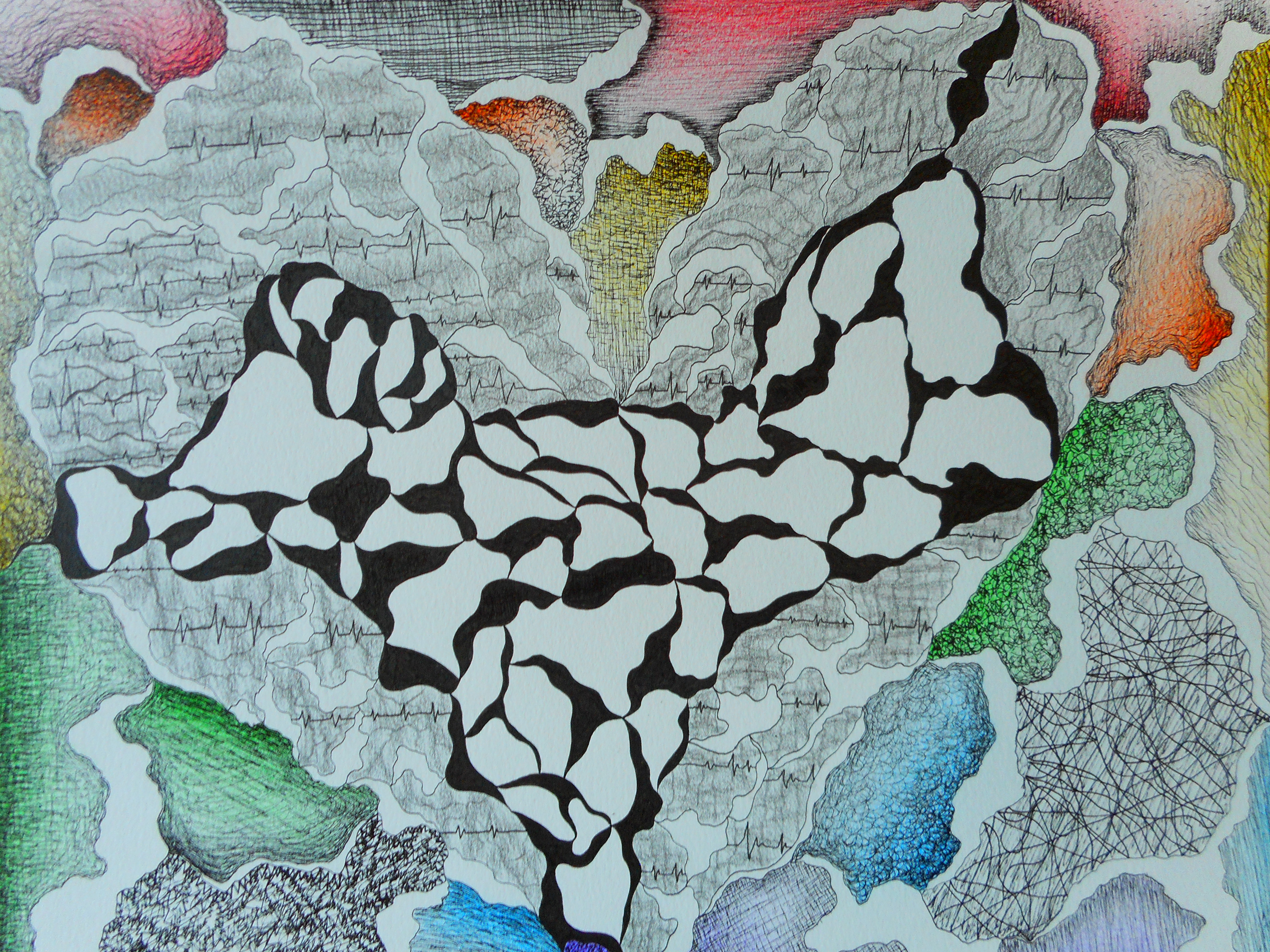 This drawing was created in memory of the Pulse victims.  Featured are 49 black shapes in memory of the 49 souls we lost in this massacre and 53 white shapes in memory of the injured survivors.  Together, these 102 shapes create the body and foreground of this drawing.  Additionally, featured in the background are other shapes presented in the colors of the rainbow, in honor of the queer and trans communities against whom this attack took place.
Unfortunately, as of June 12, 2017, two of the survivors have also passed away due to external circumstances.

Featured are the faces of the 49 victims of the Pulse massacre, with their images layered on top of one another to simulate the haze of this attack and in honor of the queer and allied lives we lost at that fateful night.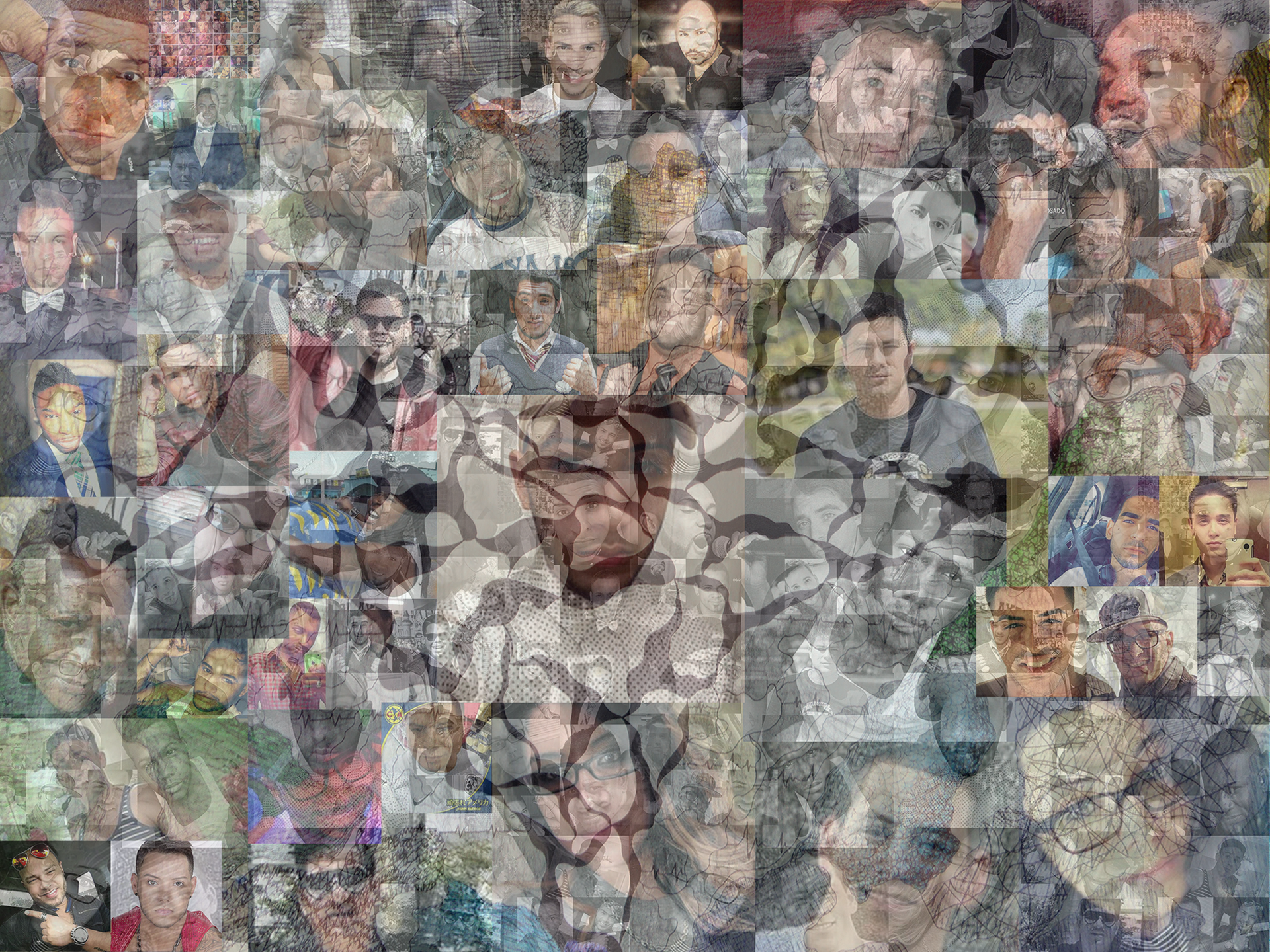 This is another digital composite of the faces of the victims, overlaid on top of the drawing I originally created for this project.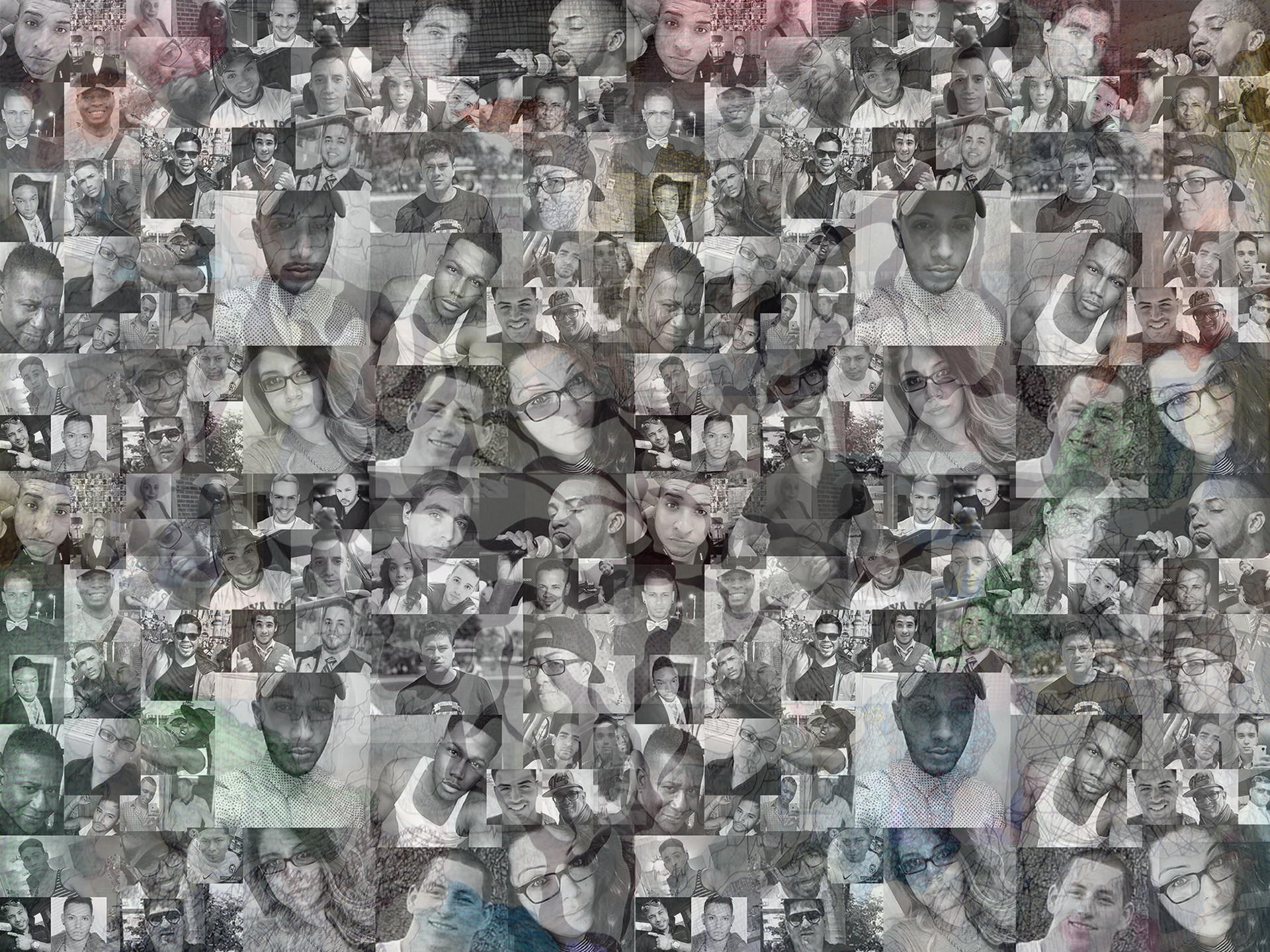 This image is a more somber tribute to the victims.  Similar to the two composite images above, the faces of the victims have been presented in grayscale, with the only color in this digital collage due to the drawing on which their images have been overlaid.
The following is a list of the names and ages of the victims of the Pulse massacre, provided by the City of Orlando:
Stanley Almodovar III, 23 years old
Amanda Alvear, 25 years old
Oscar A Aracena-Montero, 26 years old
Rodolfo Ayala-Ayala, 33 years old
Antonio Davon Brown, 29 years old
Darryl Roman Burt II, 29 years old
Angel L. Candelario-Padro, 28 years old
Juan Chevez-Martinez, 25 years old
Luis Daniel Conde, 39 years old
Cory James Connell, 21 years old
Tevin Eugene Crosby, 25 years old
Deonka Deidra Drayton, 32 years old
Simon Adrian Carrillo Fernandez, 31 years old
Leroy Valentin Fernandez, 25 years old
Mercedez Marisol Flores, 26 years old
Peter O. Gonzalez-Cruz, 22 years old
Juan Ramon Guerrero, 22 years old
Paul Terrell Henry, 41 years old
Frank Hernandez, 27 years old
Miguel Angel Honorato, 30 years old
Javier Jorge-Reyes, 40 years old
Jason Benjamin Josaphat, 19 years old
Eddie Jamoldroy Justice, 30 years old
Anthony Luis Laureanodisla, 25 years old
Christopher Andrew Leinonen, 32 years old
Alejandro Barrios Martinez, 21 years old
Brenda Lee Marquez McCool, 49 years old
Gilberto Ramon Silva Menendez, 25 years old
Kimberly Morris, 37 years old
Akyra Monet Murray, 18 years old
Luis Omar Ocasio-Capo, 20 years old
Geraldo A. Ortiz-Jimenez, 25 years old
Eric Ivan Ortiz-Rivera, 36 years old
Joel Rayon Paniagua, 32 years old
Jean Carlos Mendez Perez, 35 years old
Enrique L. Rios, Jr., 25 years old
Jean C. Nives Rodriguez, 27 years old
Xavier Emmanuel Serrano Rosado, 35 years old
Christopher Joseph Sanfeliz, 24 years old
Yilmary Rodriguez Solivan, 24 years old
Edward Sotomayor Jr., 34 years old
Shane Evan Tomlinson, 33 years old
Martin Benitez Torres, 33 years old
Jonathan Antonio Camuy Vega, 24 years old
Juan P. Rivera Velazquez, 37 years old
Luis S. Vielma, 22 years old
Franky Jimmy Dejesus Velazquez, 50 years old
Luis Daniel Wilson-Leon, 37 years old
Jerald Arthur Wright, 31 years old